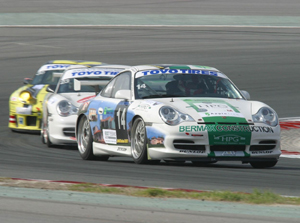 The Lithuanian team Oktanas, with Uwe & Jürgen Alzen, Nemunas & Nerijus Dagilis and Egidijus Dapsas sharing the wheel of a Porsche 996 RSR, claimed pole after a two-hour qualification session in Dubai. With a time of 2.04.682, they were about five seconds faster than last year's pole. The battle for pole was nevertheless a very intense one. The Austrian Porsche squad Race Alliance with Phillip Peter, Karl Wendlinger, Lucas Lichtner-Hoyer and Georg Silbermayr finished second in the time trial, only 0.28 second behind the leading team. The race will start Friday at 14:00 local time.
Last year the Düller team monopolized the front row with two BMW M3, but this year's top 10 only sees only one BMW left. The Düller quartet Quester / Werner / Janis / Campbell-Walter came home in third position, not even a second behind the fastest of the Porsches. This year, Düller races the brand new BMW Z4, victorious in the 24 hours of Silverstone in September and second in the Bahrein double-header about a month ago. Fourth and standing next to the BMW is the Konrad Lechner-Porsche RSR.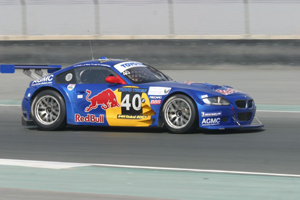 In class A1 (1600cc) the Ford Puma of Ebbing Motorsport was unbeatable and got round 4.6 seconds faster than second placed Rhino's Leipert Ford Fiësta. In class A2 (2000 cc), the Maeder Motorsport Honda S2000 beat a Renault Clio armada, while both the Motors Television Team BMW 325 Compact were quickest in class A4 (3000 cc). As said earlier, the BMW Z4 Coupé of Düller Motorsport finished first in class A5 (3500cc) with the Porsche of Levin Racing in second. This is the only Porsche not running in class A6 (till 4000 cc). Right behind the Porsche, we find the BMW of the Marcos Racing Team with Cor Euser and further down there are the same Bavarian M3's of EDM Motorsport and Düller Motorsport. The qualifying result in class A6 is a copy of the overall top-10, except for the Düller BMW Z4. In that class, we find not less than 24 Porsches.
Among the Diesel powered cars, VW Motorsport took first and second with both their Golf TDI. In third, more than 3 seconds behind, we find the Seat Leon of Red Camel Racing and from fourth spot on, a bunch of BMW 120D.
Last but not least, among the three present Silhouettes, the Solution F car of Gasperini-Somez-Catelain was fastest and with a 18th place overall, the French car was even faster than some of the Porsches.
All information concerning the qualifying results, entry and the live timing can be found on www.24hDubai.com.
The race starts at 14.00 local time or 10:00 GMT / 11:00 CET.