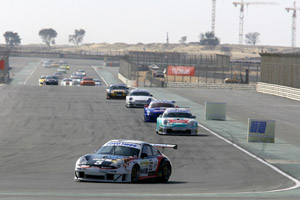 Dubai, 12th of January - clear sky - 30° Celsius and 40 % humidity: the second edition of the Dubai 24 hours, with 70 teams starting the race, is now well underway.
The Race Alliance team, second in qualifying, withdrew even before the race. The car's owner couldn't make it to Dubai due to business reasons. Former Formula 1 driver Karl Wendlinger and co-pilot Philippe Peter had no other option than withdrawing the car. Philippe Peter though was able to find refuge in the Duller BMW Z4.
After the green light, both Oktanas and Konrad Lechner Motorsport were well underway. During the opening stages of the race, the battle for first was intense and both cars took the lead on several occasions. After 50 minutes, the leading Oktanas Porsche was the first to refuel. Oktanas regained its first place after all cars made their stop.
Behind the leaders, Düller, SMS Seyffart Motorsport and VIP Petfoods completed the top-5.
After 150 minutes of racing, the Red Camel Seat Leon TDI hit the barriers heavily. The race direction decided to call in 'code 60', meaning that the race continued, but with a speed limit of 60 km/h. Both the Oktanas and Prospeed Porsche came in for a second stop. Meanwhile the #1 Hubert Bergh Motorsport Porsche hit technical problems.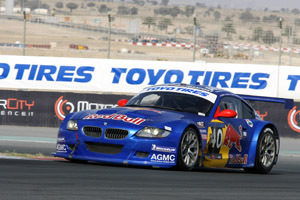 After three hours, the situation did change, with now the Konrad Lechner Motorsport Porsche leading the Oktanas Porsche by well over two minutes, with the Düller BMW on one lap in third.
Other teams performing well were G-Force (4th), Levin Racing (5th) and ProSpeed (6th). Renauer Motorsport (Porsche), Düller Motorsport (BMW M3) and the Porsches of VIP Petfoots and KRS-Racing-Service completed the top-10. AC Bratislava, third last year, suffered a one-lap penalty and dropped back into 19th place.
After four hours, darkness was falling in Dubai and Oktanas was back into the lead. First Motorsport made its first appearance in the top-10.
Team Mirage Australia (A1), Equipe Verschuur (A2), Black Falcon Team (A3), Motors Television Team (A4), Düller Motorsport (A5), Oktanas (A6), Solution F (Silhouette) and VW Motorsport Team (Diesel) were leading their classes.