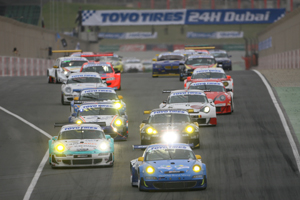 (January 11, 2008) The third edition of the TOYO TIRES 24H of Dubai got off to a spectacular start, during which the race had to be neutralised no less than four times by means of a so-called "Code 60" (a maximum speed for all competitors of 60 kph). After four hours in the race, the Porsche 997 GT3 RSR of the Proton Competition team is in the lead (Lars Erik Nielsen, Allan Simonsen, Richard Westbrook, Christian Reid) , followed by the Oktanas Racing Team Porsche 996 RSR (Nemunas Dagilis, Nerijus Dagilis, Egidijus Dapsas, Uwe Alzen, Marc Benz) and the Porsche 996 GT3 RS, run by Belgian team, Prospeed Competition (Rudi Penders, Franz Lamot, Markus Palttala , Mikael Forsten).
One of the main challengers, Konrad Motorsport (Porsche 997 RSR, Wolfgang Kaufmann, Franz Konrad, Michael Schrey, Jeroen Bleekemolen) was among the first teams to retire from the race. The team, that was in contention for victory in Dubai last year until the closing stages of the race and looked set for another good result following Jeroen Bleekemolen's excellent third fastest time in qualifying, saw the car coming in with oil pump problems early in the race already. There were also problems for last year's winners, Duller Motorsport (BMW M3 E46, Dieter Quester, Philipp Peter, Stefano Zonca en Andrea Belicchi), who lost a lot of time due to alternator problems.
Prior to the start of the race, many drivers were worried about the weather as more and more dark clouds gathered over the Dubai Autodrome. However, fortunately it remained dry during the first four hours of the race. There was a strong performance by the Equipe Verschuur, that saw the quickest one of its two Renault Mégane Trophy-cars (Bernhard ten Brinke, Wim Beelen, David Hart and Mike Verschuur) battling it out with the Porsches. The same applied for the two identical Méganes run by team Delahaye Renault Belgium, both with the same driver line-up (Bas Leinders, Stéphane Lemeret, Gregory Franchi, Vincent Vosse, Frédéric Bouvy).
There was bad luck in the diesel category for the car with starting number 99, run by Schubert Motorsport (BMW 120d, Heinz Schmersal, Stian Sorlie, Jörg Viebahn, Claudia Hürtgen). The team had a comfortable lead in its class, but was brought back to the paddock on the recovery vehicle after three hours and 34 minutes.