17/02/2014 | The AERO Overview AERO 2014 with more than 600 exhibitors - The entire spectrum of general aviation at Lake Constance - Special exhibitions Avionics Avenue, Engine Area, e-flight-expo, and UAS-Expo / Civilian Drones - Presentation program AERO Conferences and job fair AEROCareer
AERO 2014 ON A STABLE HIGH-ALTITUDE FLIGHT
Friedrichshafen - With a program that has again been expanded and some 600 exhibitors, the 22nd AERO will start on April 9 in Friedrichshafen. Modern engine aircraft, helicopters, and business jets of general aviation are the focus. There is also the continuation of the proven special exhibitions Engine Area, Avionics Avenue, and the e-flight-expo. The UAS-Expo will be celebrating a premier, in which civilian drones will be exhibited. The diverse program of presentations of the AERO Conferences and the job fair AEROCareer will also be part of the extensive range.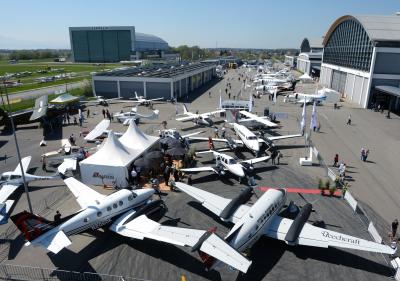 Messe Friedrichshafen CEO Klaus Wellmann and project manager Roland Bosch are optimistic for AERO 2014: "We are seeing very good demand; ten exhibition halls will be filled," say Roland Bosch. "Everything that flies" is the slogan of the AERO in 2014: The range extends from gliders to ultralights, from single- and multi-engine aircraft with piston engines to helicopters and gyrocopters, and from turboprops to multi-engined jets. Modern aircraft engines, future-proof avionics, and services and supplies relating to all aspects of flying are other priorities.
After challenging years, the manufacturers of general aviation - all civil aviation with the exception of scheduled and charter traffic - are again sensing more optimism. Due to the currently booming economy in Germany, some European countries, and the U.S., demand is again rising in various areas of general aviation. Good demand is also expected from China. Inexpensive-to-maintain ultralights and gyrocopters continue to be in vogue. There was a significant plus in ultralight aircraft in Germany in 2013: According to the associations DAeC and DULV, 163 three-axis ultralight aircraft were newly registered last year; in 2012 there were only 141. In Germany alone, there are currently 3839 three-axis ultralight aircraft in use, along with 516 ultralight gyroplanes.
With conventional one- and two-engine jets with piston engines, economical aircraft are especially in demand in the face of high fuel prices. Due to the ever increasing pervasiveness of fuel-efficient diesel engines in the range of 135 to approx. 300 hp and whisper-quiet electric drives, additional purchase incentives are in place particularly for power glider enthusiasts.
International offerings at the AERO
The AERO is established far beyond the borders of Europe. An indication of this is the large number of North American aircraft, engine, and equipment manufacturers who are exhibiting at Lake Constance. U.S. companies also provide the largest number of foreign AERO participants in 2014. Even aviation companies from Brazil and China are represented at Friedrichshafen.
Powered flight - single-engine and twins
A high proportion of the aircraft on display at the AERO are classic single- and twin-engined aircraft with piston engines. These require at least a private pilot license to fly, and they form the backbone of the fleet within general aviation. New aircraft, such as the modern Panthera by Pipistrel, which is currently undergoing its flight testing, are eagerly awaited by the audience. The single-engine four-seater C4 of Flight Design now being shown in its final configuration with integrated rescue system will also be well received.
Ultralight, Light Sport Aircraft, and European Light Aircraft
By far the largest number of exhibits are again dedicated to ultralight aircraft in 2014. These aircraft have one or two seats and weigh a maximum of 472 kg. Because the necessary air sports pilot license is easy to acquire and the machines are quiet and economical to maintain, ultralight aviation has been in a steady ascent for years. Ultralight gyrocopters have also been experiencing a boom in recent years. Since 2013, they have also been supported by a significant increase of their maximum take-off weight. In addition, some simple aircraft of the new 120-kilogram class are being presented among the ultralights. These motorized single-seaters can be flown by their pilots even without medical certification.
Like the ultralights for Europe and the U.S., there is also an entry-level class in motorized aviation. The light sport aircraft (LSA) are single-engine, the license to fly them is easy to acquire, and the health requirements for the pilots are much less demanding than for conventional air licenses. They also have a maximum of two seats, may weigh up to 600 kg, and may not be faster than 220 km/h. Numerous manufacturers from the USA and Europe are exhibiting their LSA at the AERO.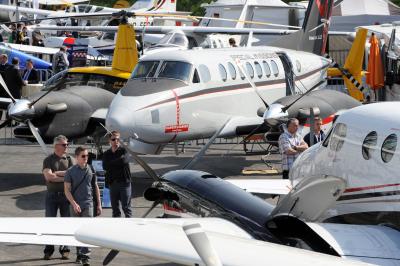 Business aviation
The most admired exhibits at Lake Constance in 2014 are again the business aircraft: Their range extends from single- and twin-engine piston aircraft to one- or multi-engine turboprop aircraft to the premier class, the business jets. Manufacturers of heavy multi-engine jets could again be satisfied with the 2013 deliveries after some difficult years. Particularly sought-after business jet models of the premium class are again experiencing extended delivery times. Helicopters are usually also included under business aviation. At the AERO, many modern helicopters will be on display, both with piston engines and turbine drives.
Gliding
Since its beginnings, the AERO has also been home to fans of silent flight. Several manufacturers, including some from Germany, will present their one- or two-seaters, ranging from beginner gliders to competition aircraft. Power gliders continue to be popular, enabling independence from towing aircraft and cable winches.
Electric helicopters are coming
The e-flight-expo has long been established and is being held under the slogan of "Electrical, Ecological, Evolutionary" with alternative drive concepts for the sixth time. One of the big attractions is expected to be the Volocopter from Karlsruhe. The electric helicopter with a total of 18 rotors, which was exhibited at the AERO 2013 as a mockup, successfully completed its first flight late last year and is now in flight testing. The futuristic aircraft provides space for two people, is to be easy to control, and has a rescue system for emergencies. In addition, other aircraft can be seen especially in the ultralight and powered glider category with whisper-quiet electric drives.
Engine Area
For the third time, there will be a separate area specifically for aviation engines at the AERO 2014. In the Engine Area, not only new piston engines for operation on unleaded fuel are to be seen, but also modern and efficient diesel engines as well as turbines presented by a total of 22 exhibitors.
Avionics Avenue
The newest special exhibition is Avionics Avenue. Here, everything revolves around the on-board equipment of the airplane or helicopter in terms of flight control, navigation, collision avoidance, flight planning, or weather observation. The 2017 deadline for conversion of radio equipment to the 8.33 kHz channel spacing in airplanes and helicopters that are approved for VFR operation will also bring lively attention to the manufacturers. Market leaders such as Garmin and Bendix King are presenting ??several innovations for the AERO. Visitors can not only be informed about many new systems but also test them out immediately: As part of the "Demo Stage for Mobile Cockpit Avionics" and "Headset Test Area," pilots can convince themselves directly of the qualities of the devices offered.
Civilian drones in use
The new exhibition area UAS-Expo (unmanned aerial systems) is celebrating its premier at the AERO 2014. There visitors can see how far the development of civilian drones has already come. Manned and unmanned aerial vehicles from different vendors will be exhibited there, equipped with modern measuring and sensor technology. For unmanned aircraft systems, which are a part of the field of general aviation, there are already a range of applications, ranging from environmental research and earth observation to architecture and rescue operations. The aerial devices were in use even at the Olympics. In addition, an indoor flying display will be unveiled at the AERO, in which these aerial devices can be seen in action.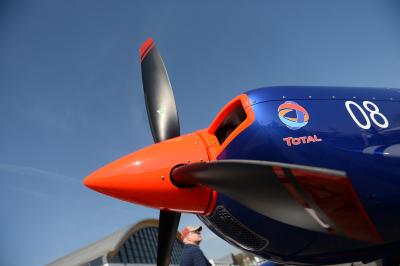 AERO Conferences
As part of the AERO Conferences, in 2014 there will be more than 100 presentations, conferences, and workshops on current topics in aviation. Experts from pilot associations, regulatory authorities, the manufacturer associations GAMA and LAMA, and interest groups from general aviation will be providing information and discussing the policy framework, opportunities for improvement, and the current situation in aviation.
Job fair AERO Career
For all interested in pursuing a career within the aviation job market, AERO Career will be an important point of contact at the AERO: Businesses and universities will be presenting themselves there and providing information on training opportunities, career profiles, and job opportunities in the aviation industry.
Information for visitors arriving in planes they fly themselves
For AERO 2014, arrival for pilots with their own aircraft is again only possible if a slot is obtained in advance. The slots can again be booked online as usual. In addition, slots will be also given out by telephone by the booking office this year. For more information, check out www.fly-away.de starting around mid-March.
For ultralight aircraft and powered gliders, the Markdorf glider airport located ten kilometers west of Friedrichshafen Airport can also be landed at during the fair from 8 AM to 7 PM, April 9 to 12. Departures are also possible on April 13. There is a shuttle connection to AERO from Markdorf. For better planning, ultralight and powered glider pilots should obtain information and register at www.sfg-markdorf.de.
Tent City on the fairgrounds
The Tent City at the fair has proven itself and is already in its third year: Those who do not want to spend much time on housing can simply stay in the "AERO Tent City" in Hall A2 for a small fee. This is especially interesting for pilots who have a late slot and want to stay in the middle of the action. The tents are provided by the Fair; visitors need only bring a sleeping bag. The tents in single or double occupancy can be booked online starting on March 1.
The opening hours of AERO from April 9 to 12, 2014: Wednesday to Friday from 9 AM to 6 PM and Saturday from 9 AM to 5 PM. More information is available at www.aero-expo.com.