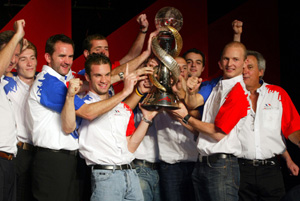 A1 Grand Prix celebrated the end of its first season this evening (2 April) at a glittering ceremony at the Grand Hyatt in Shanghai's business district, the tallest hotel in the world. Teams, drivers and Chinese dignitaries gathered to watch as season long achievements were honoured.
The most popular winners of the night were Stephen Simpson, the young South African who won 'Most Improved Driver', and A1 Team Mexico who won the 'Most Improved Team'. On winning the prestigious driver award, Stephen said ' I feel very honoured to be presented with this award, this has been much more than a motor racing experience - I have loved my A1 racing and have learnt a great deal, but I have also made a lot of new friends and been to many new countries. Representing South Africa has been a privilege and a highlight of my life.'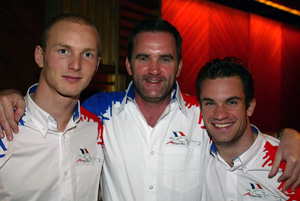 There was more good news for A1 Team Netherlands who won three awards. This comes on top of the announcement last week that the first race of the 2006-07 season will be held at Zandvoort, Netherlands on 1 October 2006. Jos Verstappen collected the award for 'Most Spectacular Manoeuvre' after two courageous overtaking manoeuvres at the A1 Grand Prix of Nations, Durban, South Africa which led to his first win in A1GP. The team also won the award for 'Most Appealing Livery', which was voted for by votes cast on the A1GP web site, and the award for 'Most Devoted Fan Base'.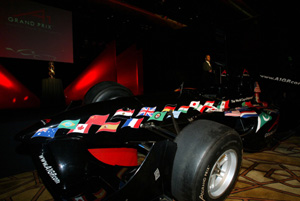 A1 Team South Africa also had a successful evening, taking home two more awards. Seat holder Tokyo Sexwale won the award for 'Most Supportive Franchisee' along with Colin Giltrap from A1 Team New Zealand and Emerson Fittipaldi from A1 Team Brazil. Dana Cooper collected the award for 'Best Presented Event' in recognition of the brilliant event put on for A1 Grand Prix's first street race in Durban, South Africa.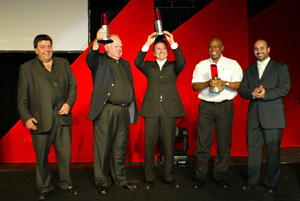 A1 Team France were there in force to be the first team to be awarded the World Cup of Motorsport. Alexandre Premat and Nicolas Lapierrre, whose 13 wins up to the American race in Laguna Seca saw the title decided in the penultimate race weekend, were also presented with commemorative rings made from white gold with diamonds inset.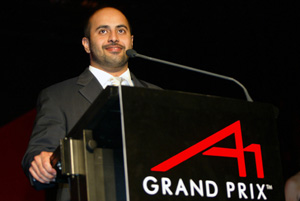 Sheikh Maktoum, Chairman of A1 Grand Prix said: 'Tonight is a celebration of all we have achieved in our first season. The teams, drivers and all involved in A1GP, have put on a magnificent show, which I know we will better in our second season. I want to congratulate A1 Team France and thank all those that have made this possible, just two years after A1GP was launched on 30 March 2004. Our thoughts and efforts now turn to the next season and the first race in the Netherlands on 1 October.'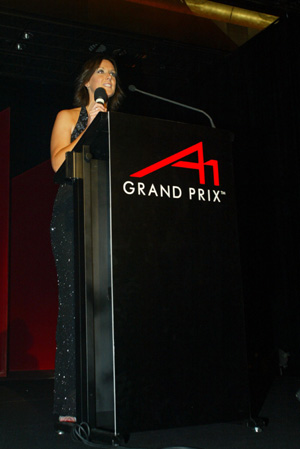 Other winners of the evening :
Most Supportive Franchise - Colin Giltrap, Emerson Fittipaldi, Tokyo Sexwale
Best Supporting Organiser - Sentul, Indonesia
Best Event Promoter - A1 Team China, A1 Grand Prix of Nations, China
Best Presented Event - A1 Grand Prix of Nations, Durban, South Africa
Most Proficient Commercial Partner - A1 Grand Prix Productions
Most Devoted Fan Base - A1 Team Netherlands
Most Appealing Livery - A1 Team Netherlands
Team PR Excellence - A1 Team New Zealand
Best Presented Team - A1 Team Ireland
Most Improved A1 Team - A1 Team Mexico
Most Extensive Product testing - Khalil Beschir, A1 Grand Prix of Nations, Brands Hatch, Great Britain
Most Spectacular Manoeuvre - Jos Verstappen, A1 Grand Prix of Nations, Durban, South Africa
Most Improved Driver - Stephen Simpson