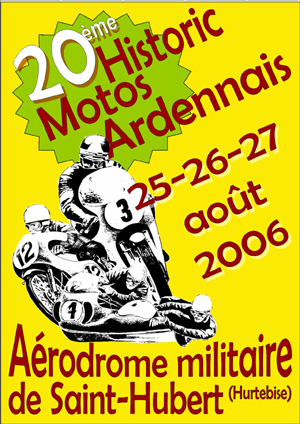 Manifestation de vitesse pure pour motos anciennes les 25,26,27 août 2006.
Après de nombreuses années sur le circuit de "JEHONVILLE", le Motor Club Chevy #41 et VMRO, se déplacent sur son nouveau circuit de l'aérodrome militaire de " SAINT-HUBERT" ( BELGIQUE ).
Championnat FMWB
L'accès facile sera fléché au départ de la N89.
Possibilité pour les pilotes et les spectateurs de réaliser l'échange ou la vente de pièces autos-motos sur une partie du site réservée à cet effet et suivant les directives des organisateurs.
Meeting for classics motor bikes August 25,26,27, 2006.
After many years on the circuit of "JEHONVILLE", Motor Club Chevy # 41 and VMRO, moves on its new circuit of the military airport of "SAINT-HUBERT" (BELGIUM). Championship FMWB
The easy access will be arrow at the beginning of N89 road.
Possibility for the pilots and the spectators to exchange or to sale parts of old cars or parts of motor bikes on a area reserved for this purpose and according to the instructions of the organizers.

---
Snelheidswedstrijd voor klassieke motoren 25,26,27 augustus 2006.
Na vele jaren op het circuit van "JEHONVILLE",verhuist Motor Club Chevy #41 et VMRO ,naar een nieuwe locatie op het militair vliegveld van SAINT HUBERT(België).
Kampioenschap FMWB.
Er zal een bewegwijzering zijn vanaf N 89 .
Er zal ook mogelijkheid zijn om deel te nemen aan een ruil en / of tweedehandsbeurs voor auto en motorfiets onderdelen, en dit op een daarvoor voorziene plaats , langs het circuit , en op aanwijzing van de organisatie .
Pour asbl Motor Club Chevy de Libramont
mcchevy41@yahoo.fr
j.l.arnould@skynet.be
martirol@belgacom.net