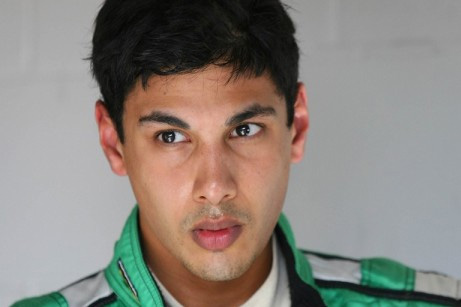 31 October 2008.../A1 Team Pakistan has been forced to sit out the next two A1GP race weekends, while changes are made to the team's chassis, in order to fit driver and Seatholder, Adam Khan. Pre-season testing revealed that Khan was unable to be comfortable in the new A1GP Powered by Ferrari car and with safety a top priority, the team has to wait for modifications to be completed before Khan can return to the cockpit.
Khan explains, "It is very unfortunate that I just cannot be comfortable in the new car. I tried the car out at Snetterton race track in the UK just before the first round in Zandvoort, but I couldn't drive the car safely and we had to miss the opening event.
"A1GP is implementing modifications that will alleviate the problems, but we will have to postpone the start of our A1GP campaign until the car is ready for us. I'm obviously disappointed, but safety has to take priority in these situations. I know that I carry with me the pride of the Pakistan nation and I'm keen to be back out on track in the A1 Team Pakistan car. In the meantime I will be attending the races, gaining as much as I can from being part of the A1GP community and working with the technical team to prepare as much as possible before we start racing again."
A1GP CEO, Pete da Silva, adds, "Not every driver is the same height and, while Adam is perhaps taller than average, he is no different to some of the world's successful racing drivers. It is just unfortunate our chassis needs changes to be made to it to allow Adam to race to the best of his abilities. These will be made and we look forward to seeing his Season Four race debut in Taupo."
Khan has been keeping race fit with a summer programme of European racing. The 23-year-old has been successfully competing in the Euro 3000 Series, notching up a podium finish in his first outing. The following race weekend in Mugello, Italy, Khan took his first victory of the Series. The following event in Misano, Italy, produced more success for the Pakistani driver, with another race win, before Khan headed to Jerez in Spain where he scored two second place finishes. This weekend Khan will be aiming for more race wins in Barcelona, Spain as well as challenging for second position in the Euro 3000 Series championship.
The A1GP World Cup of Motorsport heads to China next week for the second round of the ten event calendar, with the Series' first visit to Chengdu City, before moving on to the Sepang circuit in Kuala Lumpur, Malaysia. The Series then returns to racing in January 2009 in Taupo, New Zealand, with A1 Team Pakistan joining the rival nations for the remainder of the season.