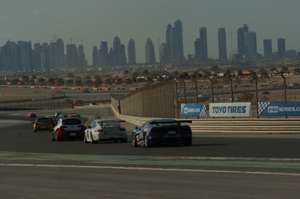 Heavily changeable conditions are in force during the third running of the TOYO TIRES 24H of Dubai. The first slight drizzle set in seven hours into the race, but soon after that, it really was pouring down. Because it hadn't rained in Dubai for months, the track became extremely slippery, which made it particularly difficult for the competitors. Several times, the clerk of the course neutralised the race by means of a "Code 60"-rule (maximum speed of 60 kph for all competitors), after several drivers had spun off the track. In the early hours of Saturday morning, the Porsche 997 GT3 RSR of the Australian VIP Pet Foods team is leading (Tony Quinn, Klark Quinn, Craig Baird, Jonathan Webb), followed by the Bleekemolens Race Planet Porsche 911 GT3 Cup (Michael Bleekemolen, Sebastiaan Bleekemolen, Jeroen Bleekemolen and Jan Lammers).
In Dubai, rain is quite an unusual phenomenon, and especially in the amounts that fell during the TOYO TIRES 24H of Dubai. According to information from local residents, the last time any meaningful rain showers fell over the Dubai Autodrome was in April last year. The huge amounts of dust, sand, oil and rubber on the track, combined with the rain, made the asphalt extremely slippery. That, in turn, was the reason that numerous drivers spun off the track. The effects were limited to material damage, but for many drivers, racing in the rain, and especially in the dark, was a very exciting new affair. Around one o'clock at night, another outpour came down while the asphalt had difficulties to absorb the huge amounts of water. As a result, there were patches of water all over the track and many drivers had to cope with aquaplaning.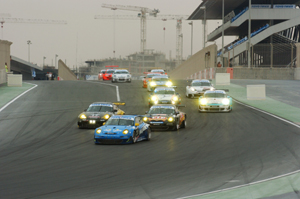 Later during the night, conditions slightly improved, but everywhere, the effects of fatigue became apparent for drivers and team members. The Australian VIP Pet Foods team had none of such problems. The black and yellow-liveried Porsche 997 GT3 RSR with starting number 39 had taken the lead in the overall classification in the sixth hour of the race and had stayed there throughout, apart from a brief pit stop. In the SP1 class for 24-hour specials, the leading car is the Renault Mégane Trophy of Belgian team Delahaye Renault Belgium (Bas Leinders, Stéphane Lemeret, Gregory Franchi, Vincent Vosse, Frédéric Bouvy) in third place overall, the fastest diesel-powered car in the field is the BMW 120D of the Belien Motorsport team (Patrick Belien, Dimitri Cuyvers, Rob Cuyvers en Stefan Verhoeven).